Pork cuts explained: A chef's guide to cooking with pork
Don't know your pork belly from a pork loin? We've put together the ultimate guide to picking the best cuts of meat for any meal.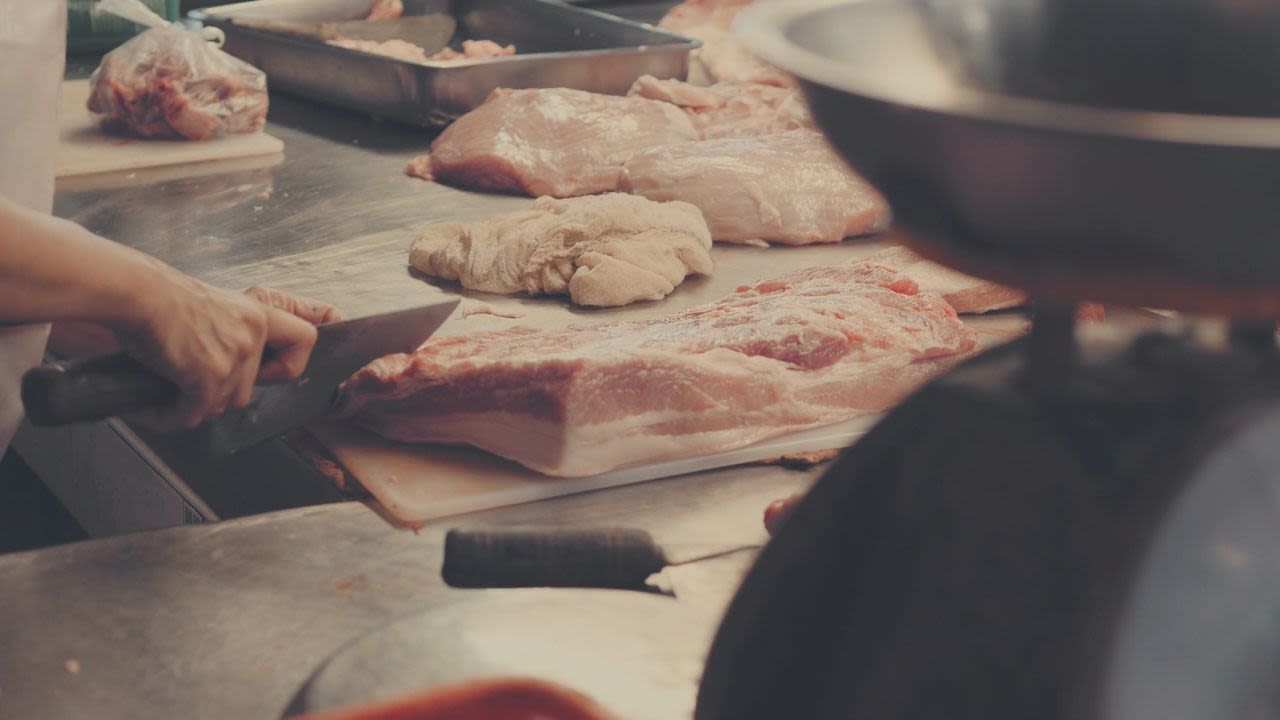 The first step to preparing a flavourful pork stew, or creamy pork pie at home is choosing the right cut of meat.
You don't know your pork belly from a pork loin? Just take a deep breath, there's no need to feel overwhelmed. Chef Peter Ayub from Sense of Taste Chef School has put together the ultimate guide to picking the best cuts of meat for any meal and shares his expert tips for cooking pork perfectly, every time.
"Whether you are looking for a great grill or braai, a scrumptious roast, a speedy midweek meal, something slow-cooked, curry or stir fry, pork is incredibly versatile and takes on flavours fantastically, says Chef Peter.
Did you know? Pork is a great source of protein, vitamins, and minerals, you can choose leaner or fattier cuts of pork depending on what you're cooking.
Here's everything you need to know:
PORK CHEEK
Pork cheek is a fatty, full-flavoured muscle with a great gelatinous texture, ideal for mincing or slow-cooking. This often underrated cut of meat is reasonably priced; however, you'll have to talk to your butcher ahead of time to reserve the specific cut.
Pork cheek can be chopped into smaller pieces and cooked slowly in a stew, or casserole; or cooked whole and braised in a rich and sticky sauce.
Chef Peter's best flavour pairings for pork: Thyme, sage, rosemary, oregano, Chinese five spice, apple and cinnamon, orange, garlic, carrots, white wine, beer, cider and brandy.
PORK LIVER
High in protein, vitamin A, B-complex vitamins, copper, iron and selenium, pork liver is best cooked quickly in a super-hot pan or braise it gently for a soft texture. Fried in oil with onions and served with crispy potatoes, you can easily whip up a nutritious meal in under 30 minutes.
Feeling more adventurous? Pork liver has a strong flavour and is often used to make coarse country pâtés seasoned with plenty of garlic, black pepper, and herbs.
PORK CRACKLING
Pork skin can be trimmed away from the meat, salted, and roasted on high heat to make "crackling."
Sshhh.. Chef's secret | Score the crackling with a sharp knife to help distribute the heat and cutting the skin into long strips will help prevent it from curling up as it cooks. You can also ask your butcher to do this for you.
Cook the crackling on a flat baking tray in a hot oven or under a hot grill with plenty of salt.
PORK RASHERS
Pork rashers not only taste great but are serious value for money. Full on flavour and low on washing up, our delicious Tomato Pork Stew is served with steamed dumplings – cooked conveniently on the stove-top in one pot. See the recipe below.
PORK LOIN
Pork loin is a classic roasting joint, delicious as part of a traditional Sunday roast with an apple and sage sauce. The loin can either be cooked with the bone, deboned, or stuffed and rolled up.
You can keep the skin on and crisp it up to get lovely crackling or remove the skin and marinate the whole loin. For best results, be sure to rest the meat before carving.
Sshhh… Chef's Secret | Chops that are cut from the loin are ideal for pan-roasting and grilling.
PORK BELLY
A fatty, but incredibly tender cut of meat, the belly is delicious when slow roasted and is also used to make streaky bacon. Pork belly is very high in fat, which makes it a delicious and versatile cut.
It can be cooked slowly at a low temperature for soft meat that melts in the mouth, or it can be sliced and crisped up in a hot pan. It can also be roasted or stewed, but make sure you skim away some of the fat.
As a robust cut, pork belly works well paired with aromatic flavours and Asian spices. Chef Peters makes an awesome Thai Style Pork Belly with Asian Vegetables, and Sticky Rice served at Urban Playground here.
Sshhh… Chef's Secret | Wondering how to prepare soft and tender pork? To tenderize pork before cooking, try breaking up the tough muscle by hitting it with a meat mallet evenly across the surface. If you want it extra tender, marinade the cuts in a tenderising marinade with acids like citrus or pineapple juice, wine or vinegar.
BACON
Bacon is a type of salt-cured pork made from various cuts, typically the belly or fatty parts of the back. It can be prepared as a side dish, central ingredient, or to add flavour – like bacon bits in a salad.
Chef Peter enjoys adding bacon to dishes, and believes bacon makes everything better. Honestly, who doesn't?
With a colourful and exciting career in the culinary food industry, Chef Peter Ayub has cooked in some incredible places including Moscow, Istanbul, Bangkok, Chicago, London, Goa and Mauritius. The award-winning cookbook author and celebrity TV food show host has cooked for esteemed guests including Nelson Mandela, Jamie Foxx, Beyoncé and Jay-Z, Kim and Khloe Kardashian, Kofi Annan Helen Ziller and Patricia De Lille. Having cooked alongside Chef Reeza Mohammed, Chef Zola Nene, Chef Sue-Ann Allen, Gordon Ramsay and Chef Siphokazi, his greatest passion is teaching and sharing his immense knowledge with the students at the Sense of Taste Chef School.
You might also enjoy reading: Easy ways to stretch your food budget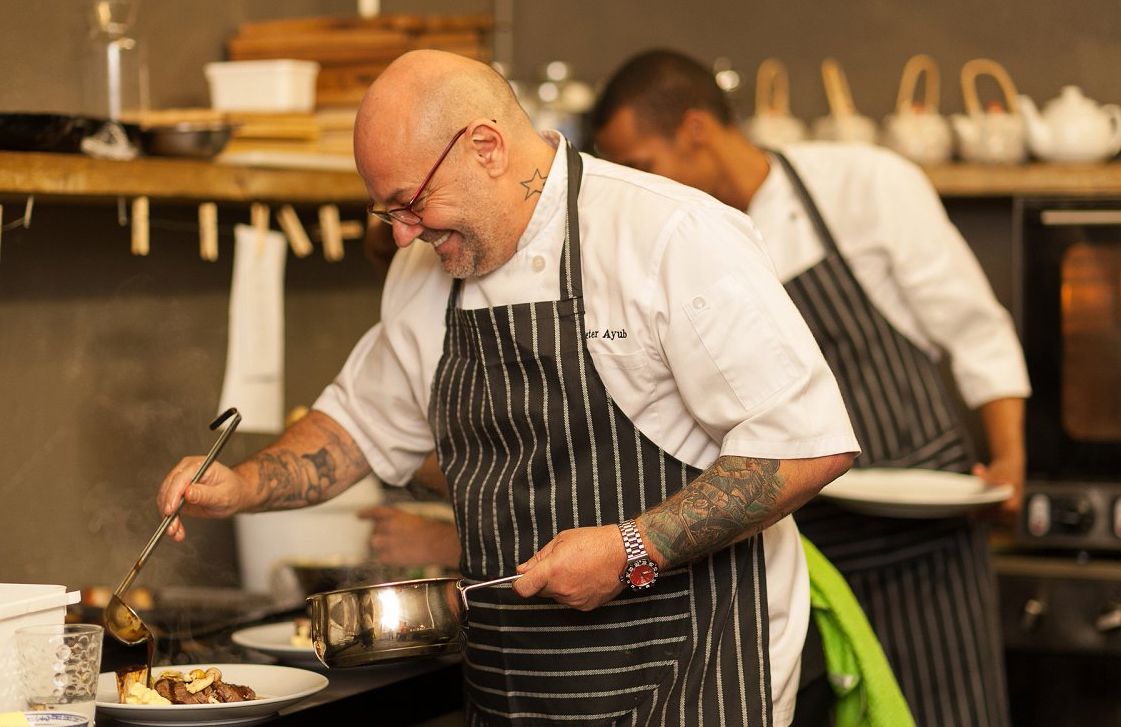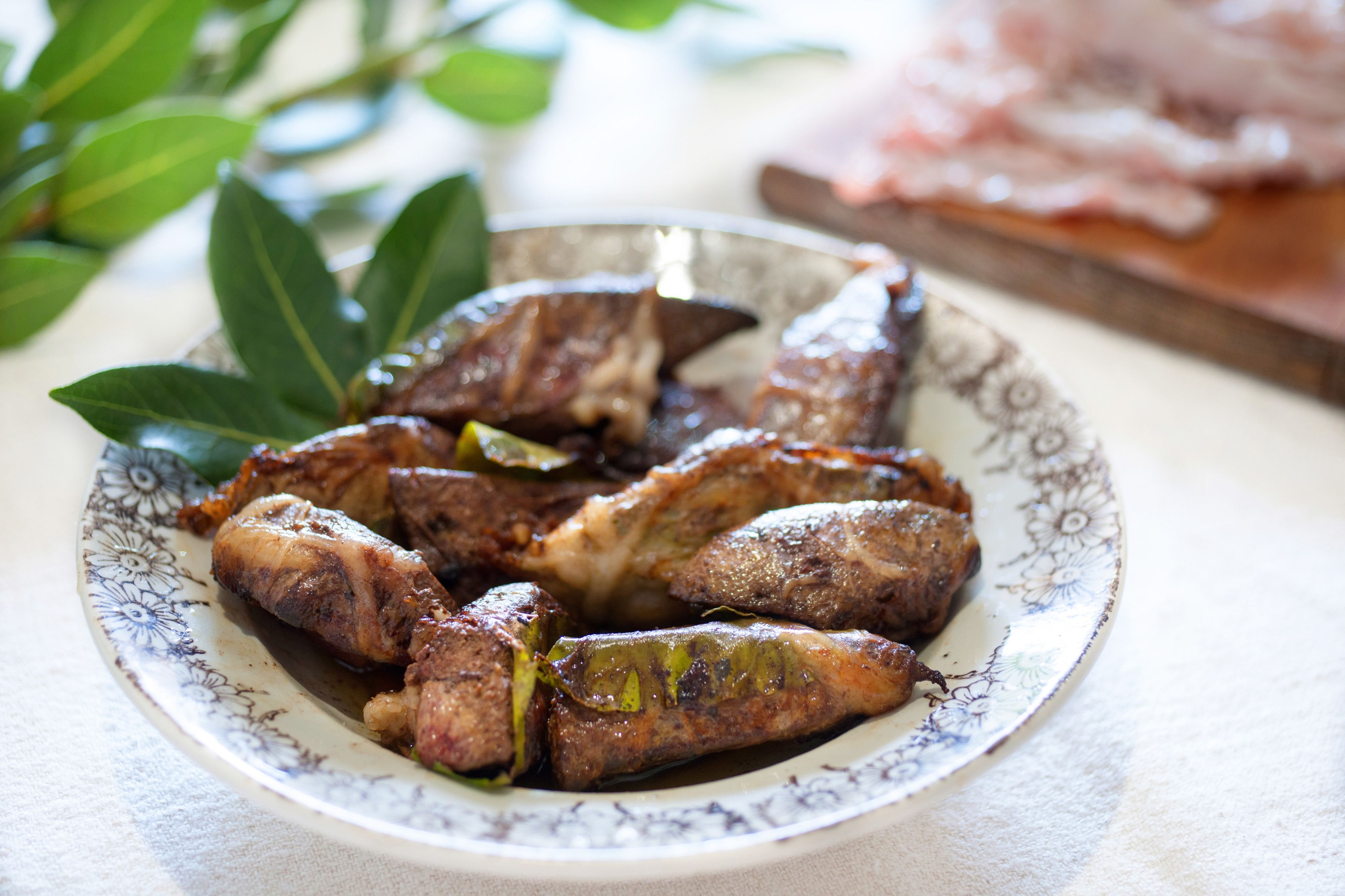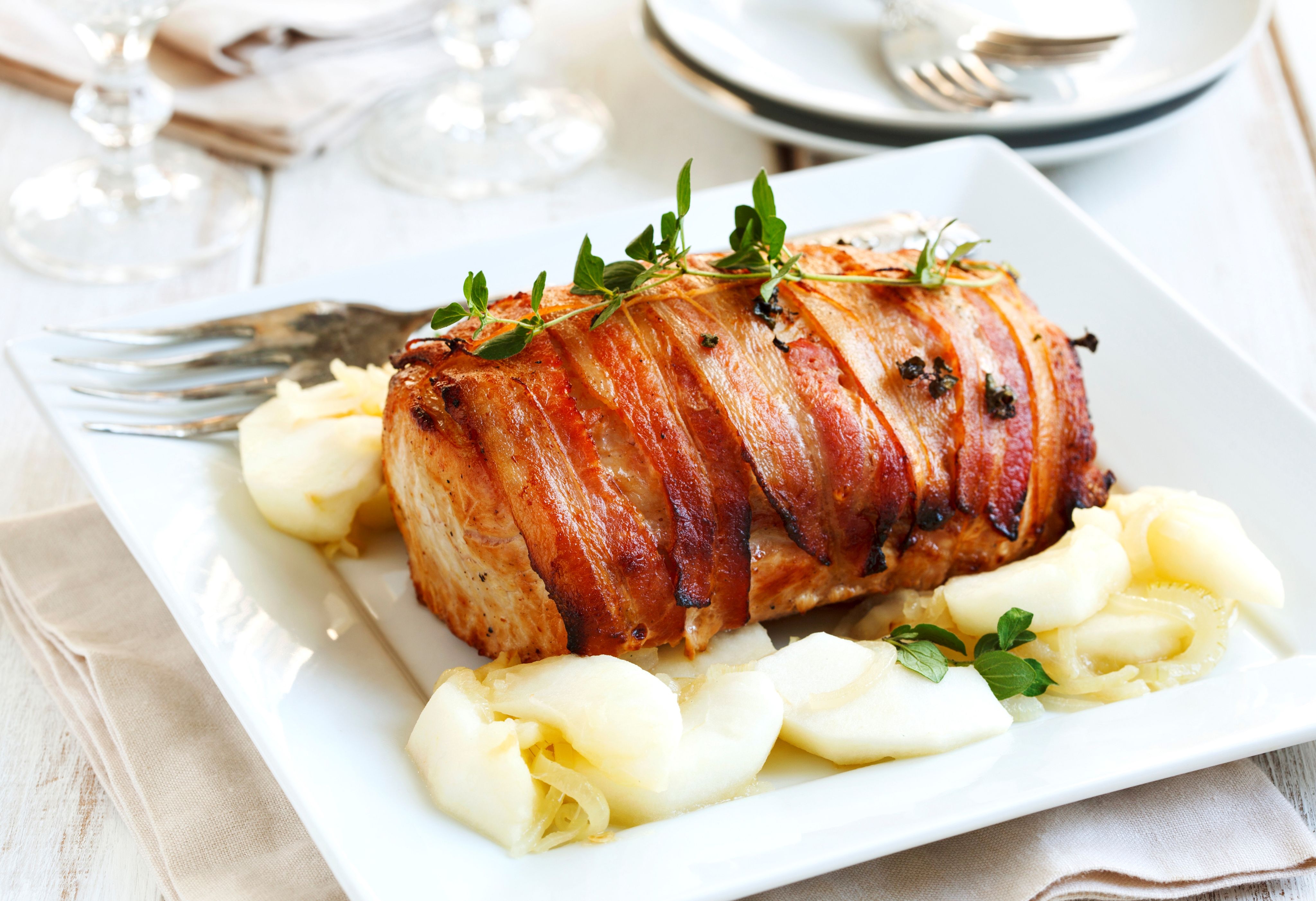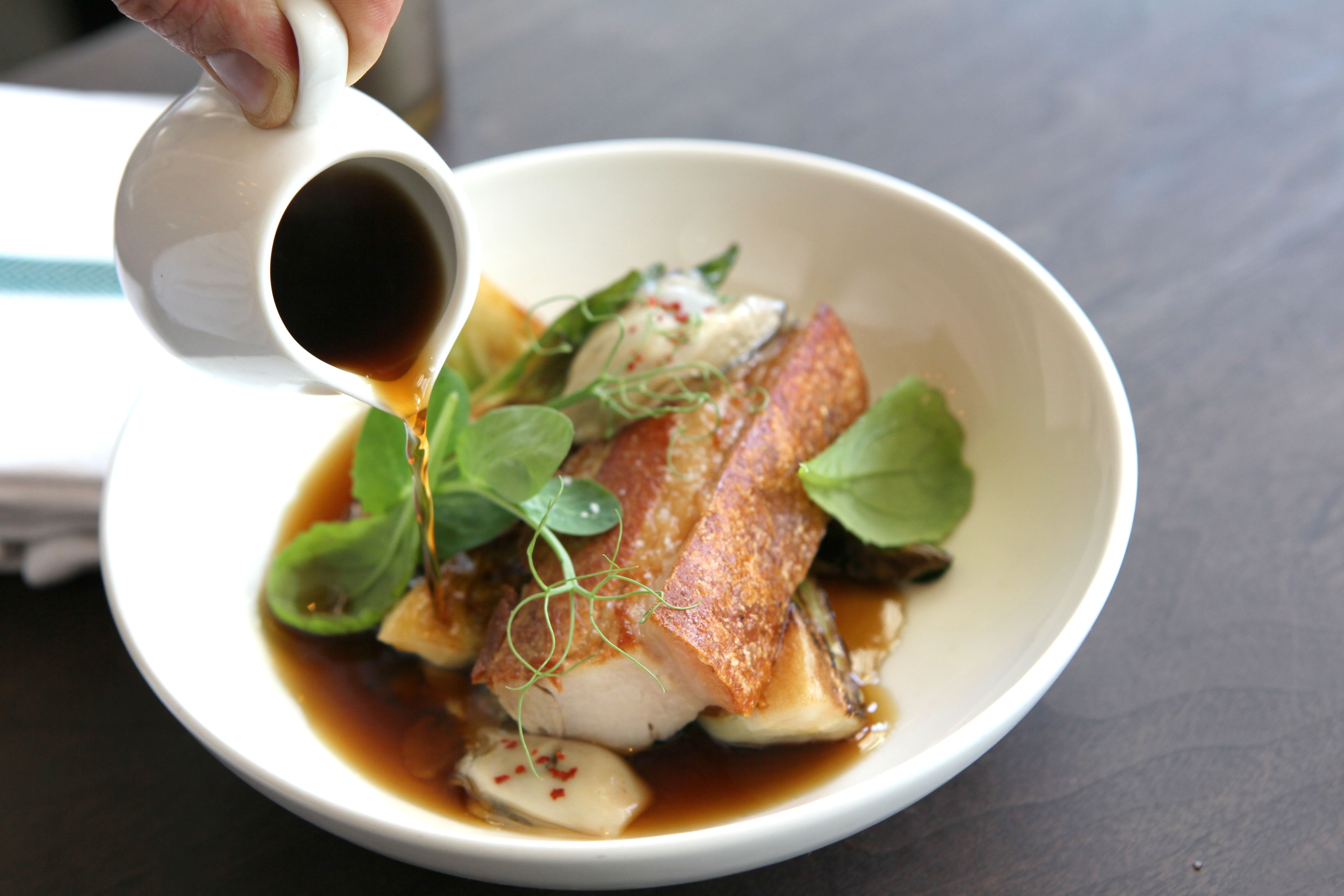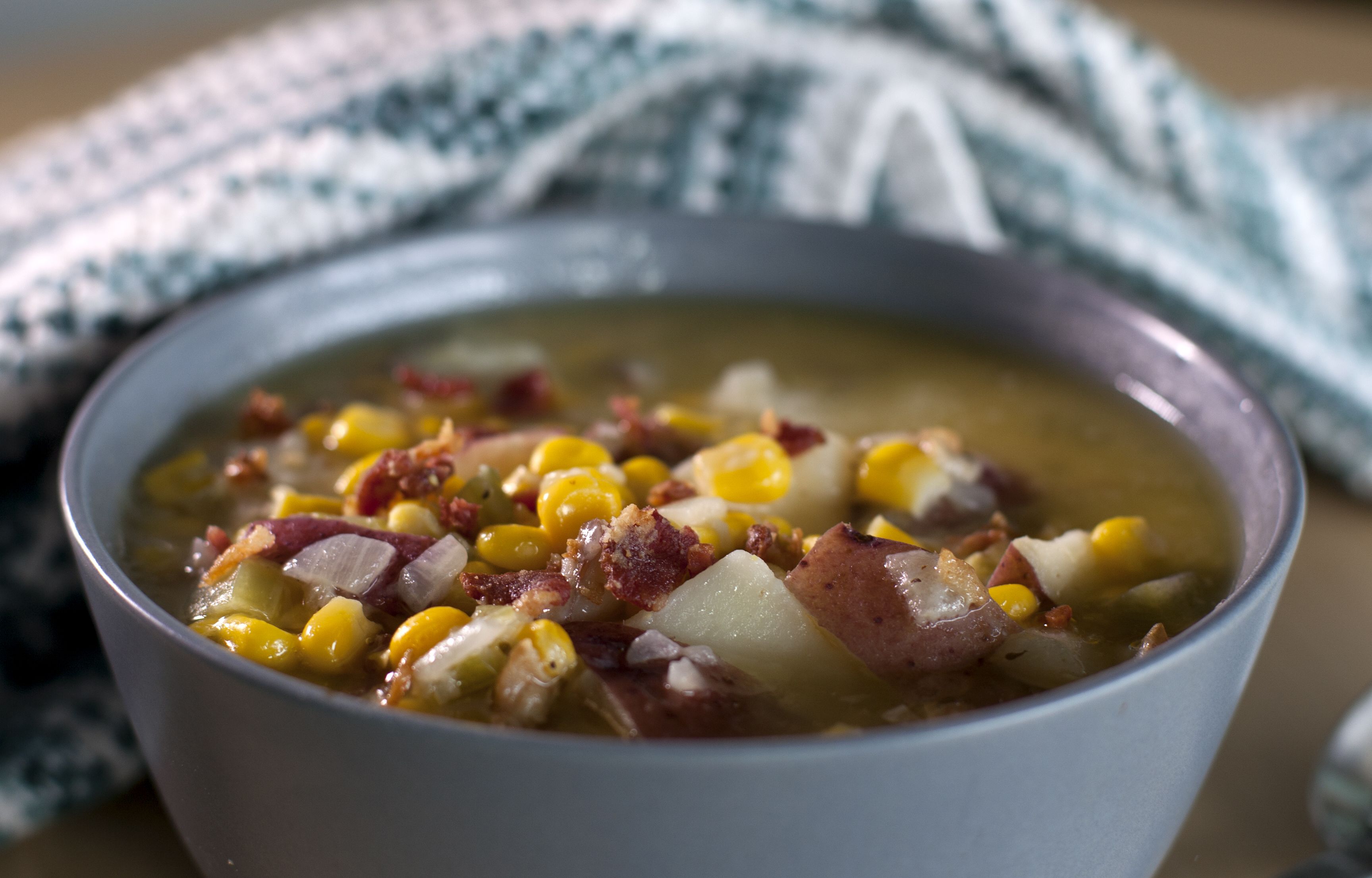 TOMATO PORK STEW AND DUMPLINGS
Pork: Pork rashers
Serves 6 | Prep time: 15min | Cooking time: 1 hour 30 min (1 hour for stew, 20-30min for dumplings)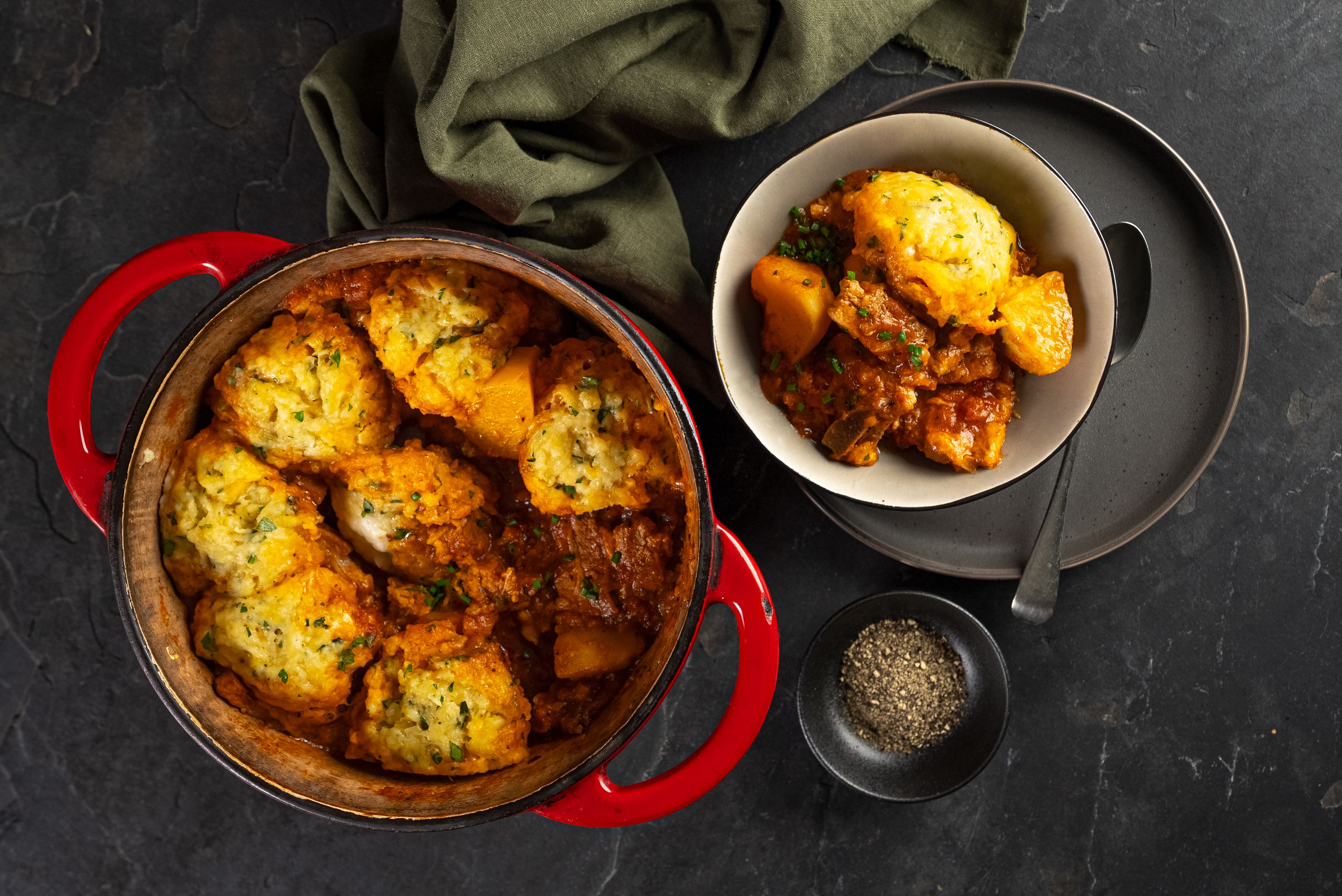 Ingredients:
Stew
15ml (1T) cooking oil
2 onions, sliced
2 garlic cloves, chopped
10ml (2t) dried herbs
50g tomato paste
1x410g can whole tomatoes + 2 cans of boiling water
1 x beef stock cube
5-6 (about 800g) pork rashers, cubed
4-6 potatoes, peeled and quartered
15ml (1T) sugar
salt and freshly ground black pepper
Dumplings
375ml (1 ½c) self-raising flour
125ml (½c) grated cheddar cheese
30ml (2T) chopped parsley (optional)
125-180ml (½- ⅓c) amasi or buttermilk
80ml (⅓c) butter or margarine, melted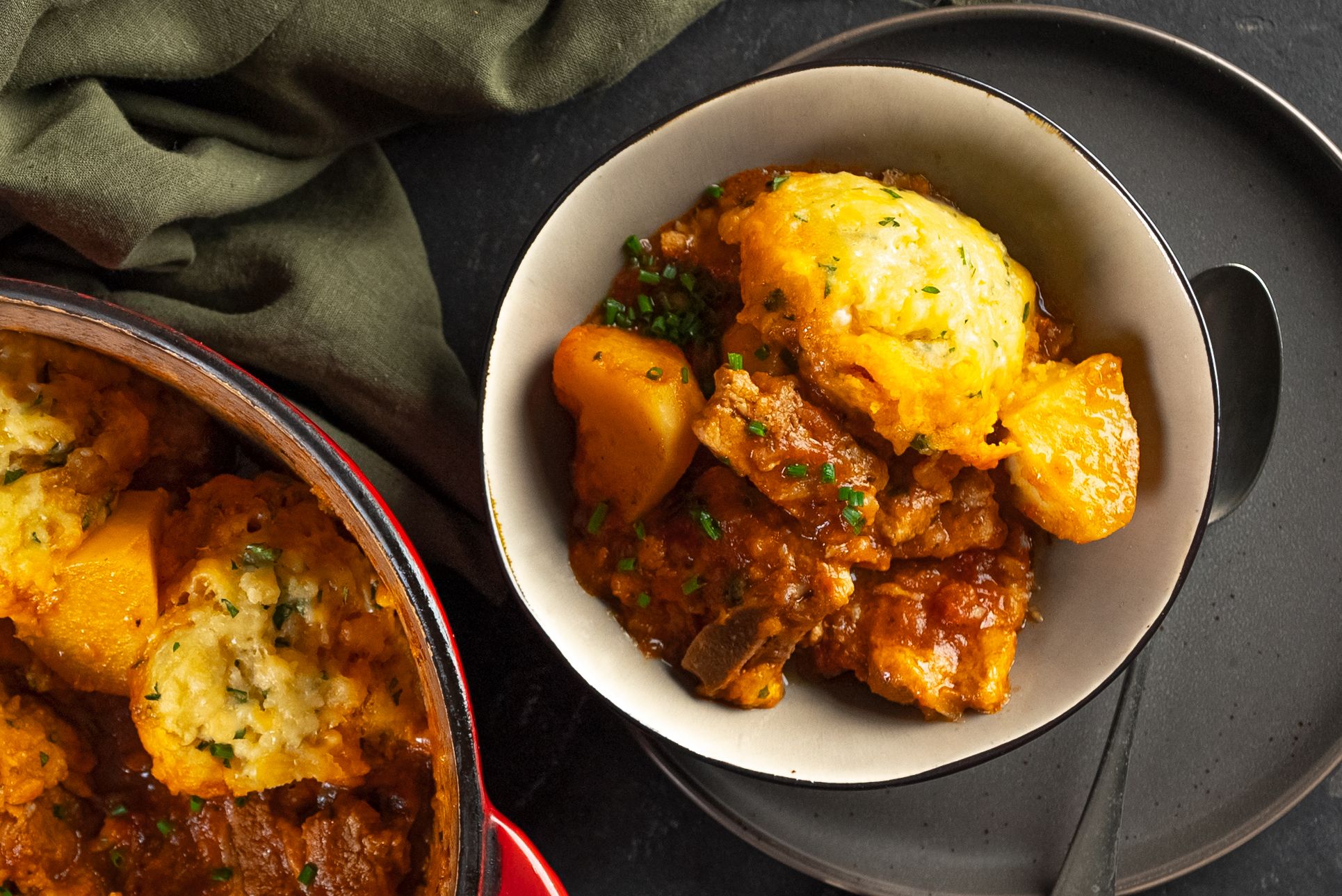 Method:
Stew: Heat the oil in a large pot and fry the onions for 5min. Add the garlic and herbs and stir-fry for 2min.
Add the tomato paste and the tomatoes. Fill the tomato can with boiling water, add to the stew and repeat.
Add the stock cube to the stew and bring to a boil. Reduce the heat, add the pork rashers and simmer for 20min. Add the potatoes and simmer for another 30min or until the potatoes are cooked through.
Add the sugar and season with salt and pepper.
Dumplings: Mix the flour, cheese and parsley together. Add the amasi or buttermilk and melted butter or margarine and stir until a stiff batter forms.
Arrange spoonfuls of the batter on top of the stew, cover with a lid and steam for 8-10min or until the dumplings are cooked.