Mzansi's Leading Schools take on the Dance of Brave Challenge
Watch the pupils at Deutsche Internationale Schule Johannesburg, Parktown High School for Girls, and Groote Schuur Primary show off their rocking moves to spread unity through dance.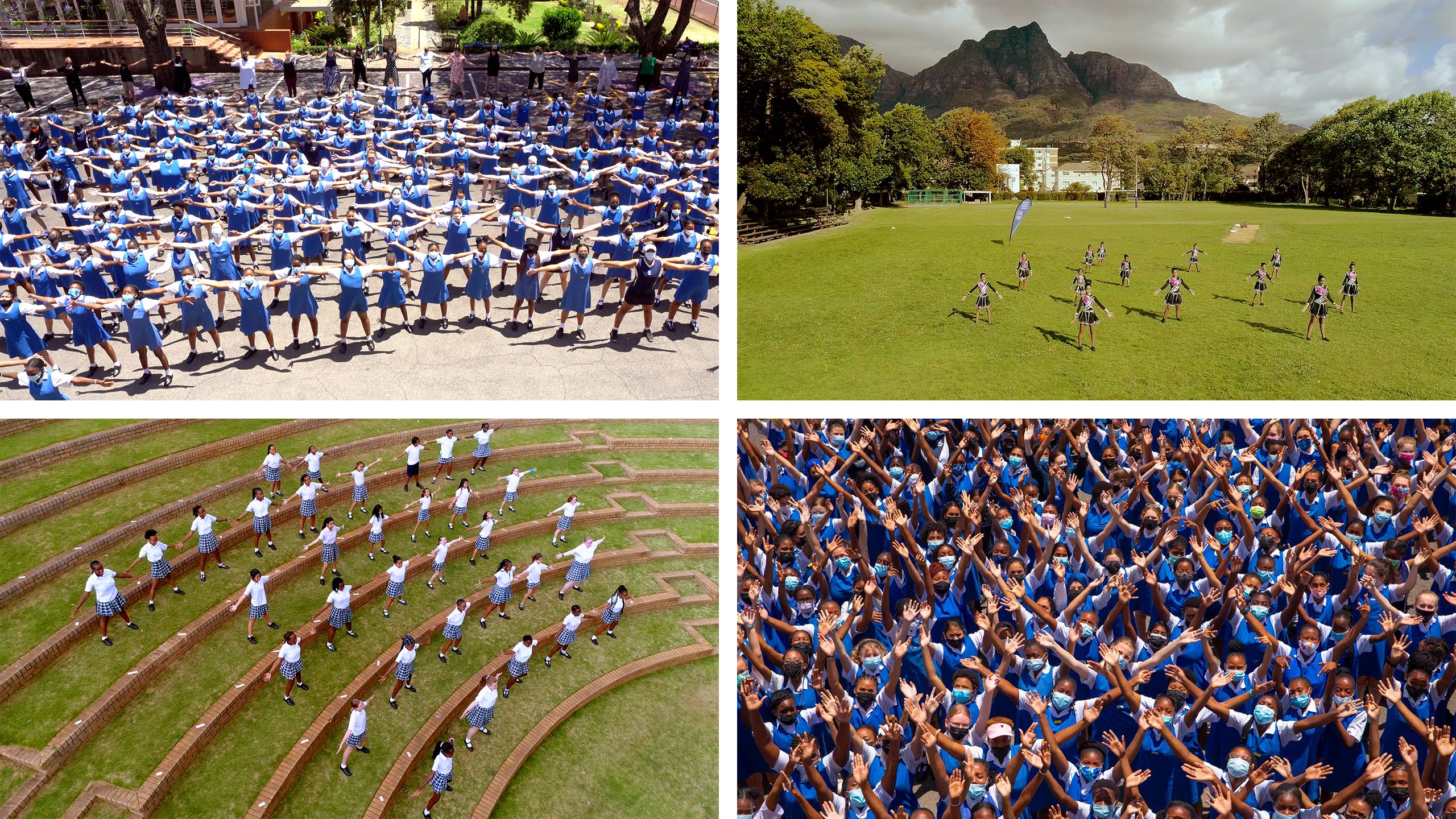 Hyping each other up and spreading the cheer in their school uniforms, the students of Deutsche Internationale Schule Johannesburg, Parktown High School for Girls, and Groote Schuur Primary are stepping up and sharing their energetic takes on the Dance of Brave challenge.
Parktown High School for Girls focuses their vision on fostering confident, courageous, curious, collaborative, compassionate, and creative young women who are ready and willing to meet every challenge on the way to achieving their dreams. Collaborating once more with their creative take on the Dance of Brave, the school rallied together students from grade 8 through 11 under the leadership of their newly appointed head girl, Katleho Ntlhakana, to share their version. "Doing the Dance of Brave was truly exhilarating. Seeing my sisters being as excited and proud of what we're doing as I was, was truly the most exciting part of my week and probably my year. Doing the dance as a whole - I saw sisterhood and unity amongst everyone. Something that we were truly missing was that spirit, and it was brought back alive through this," Katleho enthuses.
The Deutsche Internationale Schule Johannesburg was founded in 1886 and played an important part in helping to integrate non-white and previously disadvantaged students into private schooling as a stand against Apartheid in 1989 - cultivating a culture of high-quality education and ubuntu. Exemplifying the school's culture, students from grades 2 through 9 joined forces and stood together to share their united take on the Dance of Brave.
Groote Schuur Primary's goal is to provide a safe, nurturing environment for all their learners. Respect, kindness, honesty, and integrity are the pillars on which their school stands in their purpose of encouraging their young students to become successful human beings. And these young successful human beings stood together with drums in hand from grade 1 through 7 to share their energetic take on the Dance of Brave.
As for what bravery means to the schools, this is what they had to share...
The word 'brave' means to me being your true, authentic self, regardless of what society or the people around you tell you. It's standing up for what you believe in, even if that might not be what others believe in and truly being the change that you want to see in the world.
The word 'brave' is stepping out of your comfort zone and I think that's what each and every one of these kids has done. The fact that they just showed up today to perform, I mean, there were people watching as well as cameras and millions of people out there that they're performing to - it takes guts. I heard a quote the other day that said, 'We were not made for comfort, we were made for greatness' - and that's what these kids are doing. They're showing up, they're just pushing themselves, they're being brave every day.
'Brave' means never to give up, 'brave' means to do your best always, 'brave' means to deal with the situation and find the best way to deal with it. Because 'bravery' also means that the situations that you would find yourself in are not necessarily always the best situation you're going to be in - but you have to be brave, you have to be resilient, you have to go and work at a situation and try to make the best of the situation that you find yourself in. I think children have taught me that.
Watch below as these school kids across SA dance to the beat of 'We Will Rise' with their peers for the Dance of Brave challenge to teach us just how it ought to be done:
Enter your dance and WIN
Here are four ways to enter your Dance of Brave:
1) Simply Whatsapp your dance video to 0797419554. Add your details and contact number to the submission. This will automatically enter you into the competition
2) Email your dance video to editor@24.com. Ensure your contact details are included in the email. You will receive a confirmation email to confirm your entry.
3) Complete the entry form below and stand a chance to win.
4) Tag @BrandStudio24 and use the #BeBraveMzansi with your Dance of Brave video on Tik-Tok or Instagram and stand a chance to win.
Download the song and get your own entry in today!
Learn the Dance of Brave
Don't get left behind. Join in the fun as The Ndlovu Youth Choir kicks off the easy-to-follow dance challenge!
Get the whole family involved and shake off your dancing shoes. Enter the Dance of Brave by simply following the below tutorial. Get moving to the inspiring song and submit your entry to stand a chance to win awesome cash prizes.