How to make Curried Pork Sosaties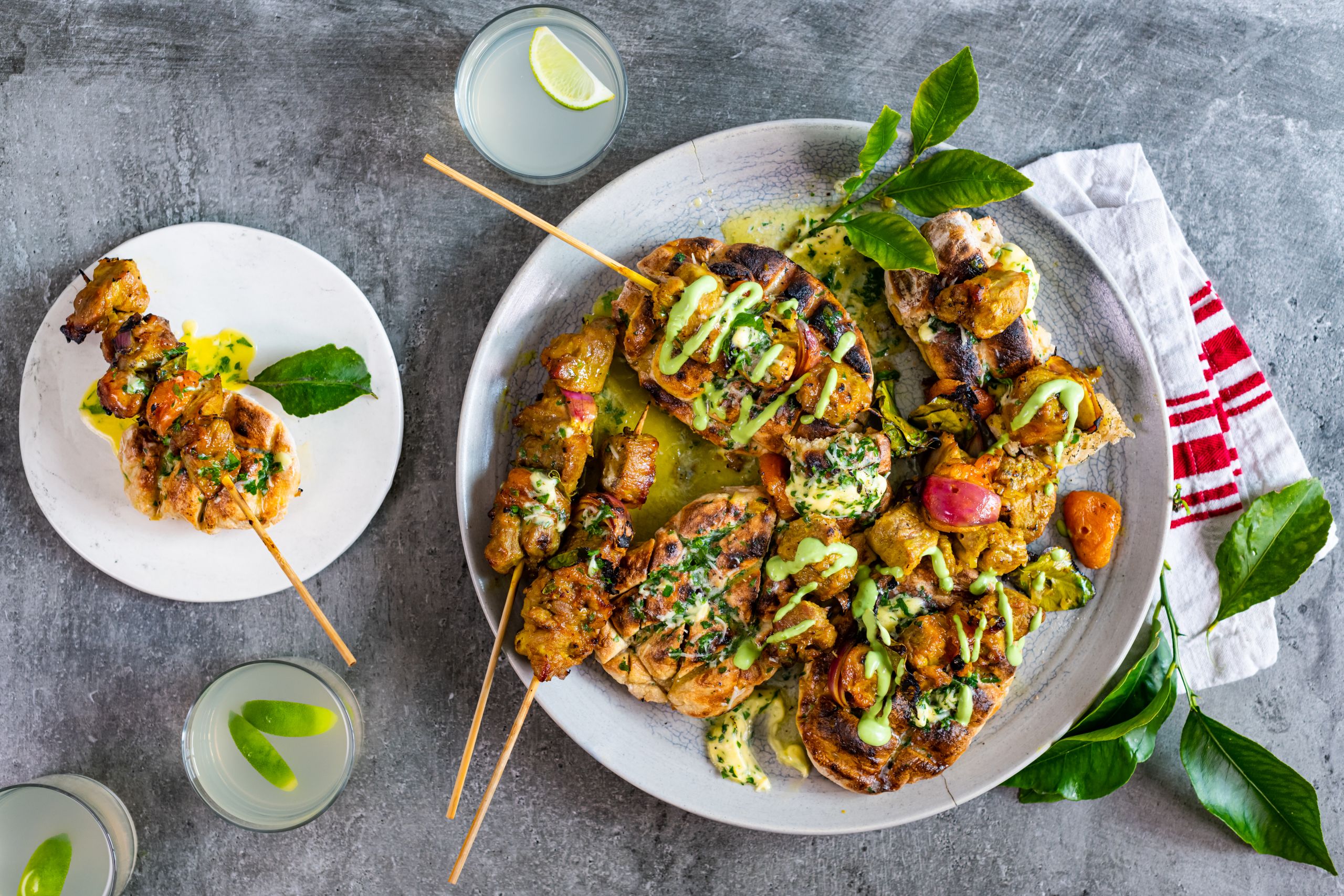 It's time to whet your appetite this Heritage Month!
Get a taste for local and lekker with mouthwatering Curried Pork Sosaties.

PORK SOSATIES INGREDIENTS
Marinade
15ml oil
1 onions, chopped
2 garlic cloves, crushed
1cm fresh ginger, peeled and grated
30ml curry powder
15ml turmeric
15ml honey
5ml salt
160ml brown vinegar
40ml apricot jam
500g pork neck, cut into big cubes (ask the butchery staff for this)
1 red onion, cut into half moons
10 lemon leaves
10 soft eating (dried)Apricots
2 Tbsp fresh mint
250ml plain yoghurt

METHOD
Fry the onions in the oil for 3 minutes until fragrant.
Add the garlic, ginger, curry powder and turmeric for another minute.
Stir in the honey, salt, vinegar and apricot jam and bring to the boil
Remove from the heat and leave to cool.
Once cooled, add the marinade to the cubed pork and mix to combine. Cover and leave to marinate overnight.
When ready to assemble, skewer the meat alternating between lemon leaves, red onion moons and apricots. To make the mint dressing, add the mint to the yoghurt in a blender and blend until smooth.
Braai or grill for about 10-12 minutes, using the leftover marinade to baste.
Serve with hot off the coals Roosterkoek and a drizzle of mint yoghurt over the top.
Yellow (Tumeric) Rice Method:
Add the rice, Tumeric, salt and water to a pan.
Place the lid on and bring to a boil.
Once boiling, turn down the heat to simmer and leave the lid slightly open to let the steam escape.
Cook the rice over low heat for approximately 30 minutes.
Once all water has disappeared, and the rice is soft but still has a bite, add in the butter, turn off the heat and leave to rest until needed.
Use a fork to fluff the rice before serving.
Chunky Salsa:
Mix everything lightly together in a dish and serve with the Bobotie and rice.

ROOSTERKOEK INGREDIENTS
500g White Bread flour
5ml Salt
350ml luke warm water
1pkt Instant yeast
5ml Sugar
15ml Olive oil

METHOD
In a large mixing bowl, mix all the ingredients together until you have a dough ball. Knead  until you have a smooth dough (or use a mixer with a dough hook attachment).
Put aside in a clean bowl with a dash of olive oil to rise for about 1 hour, covered with a tea towel.
Knock back the dough, divide into 6-8 rectangular pieces, and leave to rise again for a few minutes. Flatten the portions gently with your hands, dust with a little flour if necessary and bake over low coals until golden, fragrant and cooked through.
Mint and Yoghurt Dressing
1 bunch Mint
250mlPlain Yoghurt
Place the ingredients in a blender and blend until smooth .
Pour into a squeeze bottle and set aside till needed.